The Jinju Lantern Festival
Taking place in October, in this Festival you can see vibrant, lit lanterns of various shapes, sizes and colors lining up at the Nam River, for a stunning water display. Dating back to 1592, the Jinju Lantern Festival comes from the tradition of lighting lanterns to prevent Japanese troops from wading the Namgang (Nam River) during the Japanese invasion.
Apart from that, you can enjoy various street foods, parades and performances. Making your own lantern and writing your wishes on it is also an activity you can share with your friends or family, having the possibility to hang it up in the Tunnel of Wish Lanterns.
<The Tunnel of Wish Lanterns>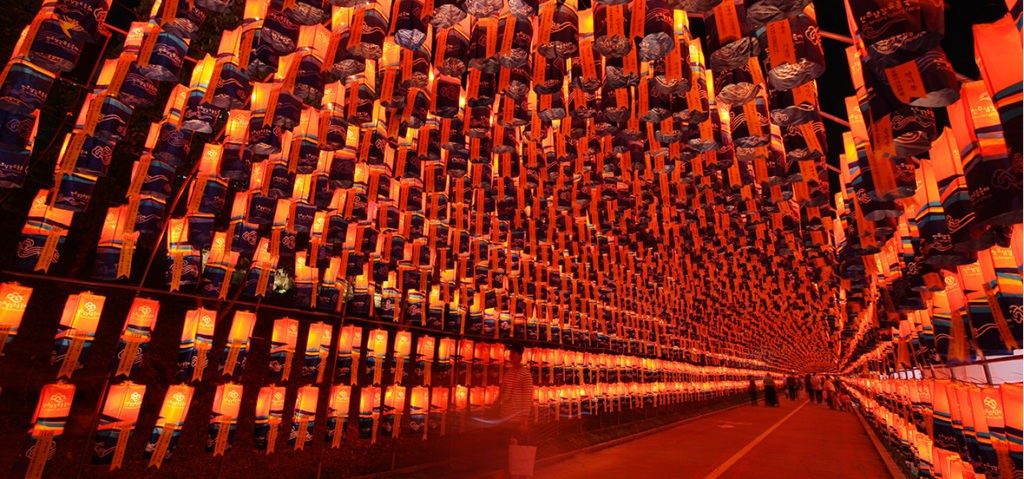 Source: Trip today blog
<Namgang in Jinju-si>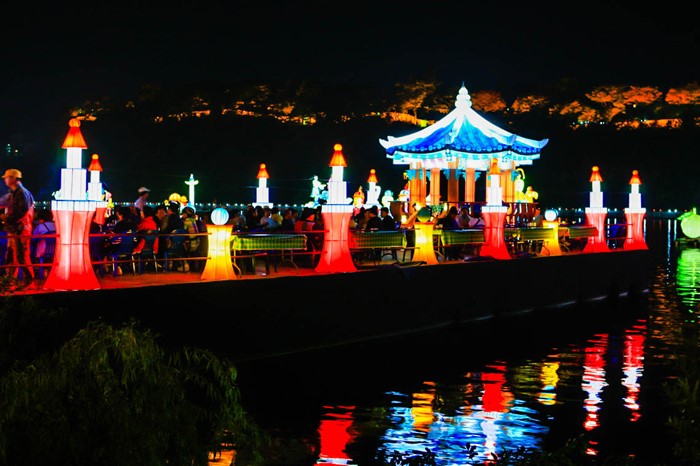 Source: My Seoul and your Seoul
Jinhae Cherry Blossom Festival
This is one of the more prominent spring festivals in Korea, which features two popular sites – Yeojwacheon (Romance Bridge) and Gyeonghwa Station.
Besides the extremely beautiful sight of the cherry blossoms, there are also other events in the festival like cultural and military performances. You can also find food vendors selling all kinds of street food.
Also, at the Romance Bridge, you can recreate your own Korean TV Drama, featured in many romance dramas. Watching the train pass by the Gyeonghwa Station, you can see the cherry blossoms turning into pink snow.
<Gyeonghwa Station>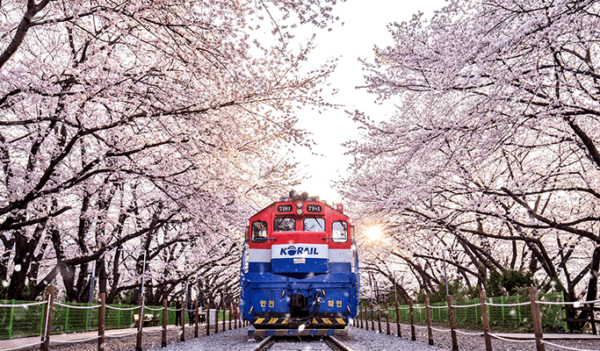 Source: K-popped
<Cherry blossoms at Jinhae, near Busan>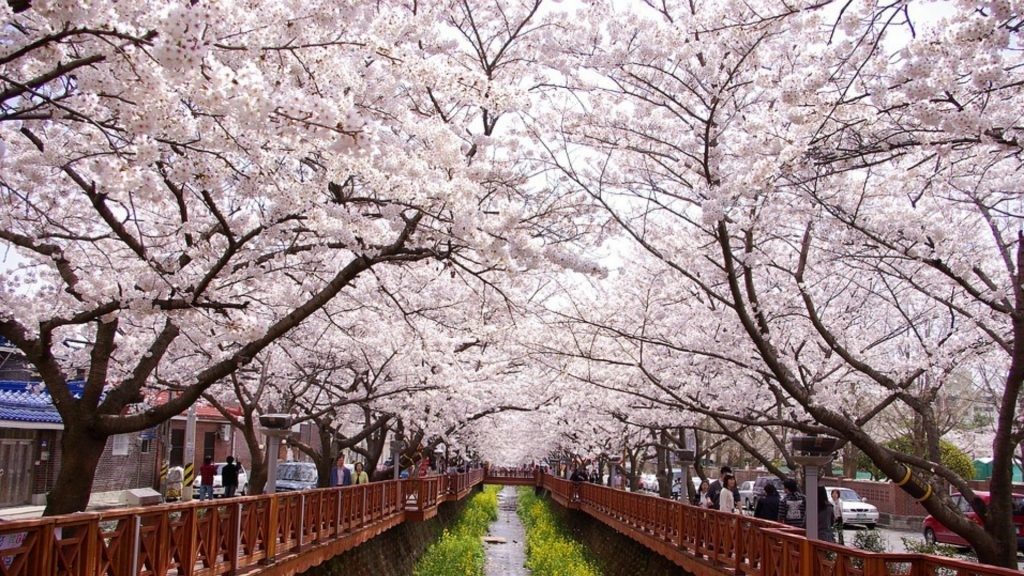 Source: Asia Exchange
<Jinhae Cherry Blossom Festival in 2015>
Source: Asia exchange
3.The Gwangju World Culture Kimchi Festival (광주세계김치축제)
Everyone who goes to Korea must try kimchi! Held in Gwangju, this festival is dedicated to all kinds of kimchi. It also has a Kimchi Master Competition and an extensive kimchi market where you can try and purchase a variety of kimchi.
If this isn't the place to get the best kimchi in the world, we don't know where is!
Moreover, if you are planning a trip to Korea around this time of the year, and you're interested in taking part in this competition, also check this site for more details:
http://english.visitkorea.or.kr/enu/ATR/SI_EN_3_2_1.jsp?cid=697371
<The winner of the Gwangju Kimchi Festival in 2016>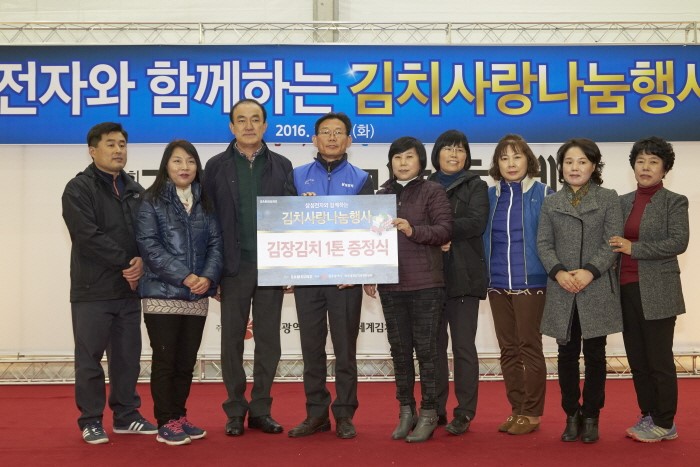 Source: Visit Korea
<Kimchi preparation>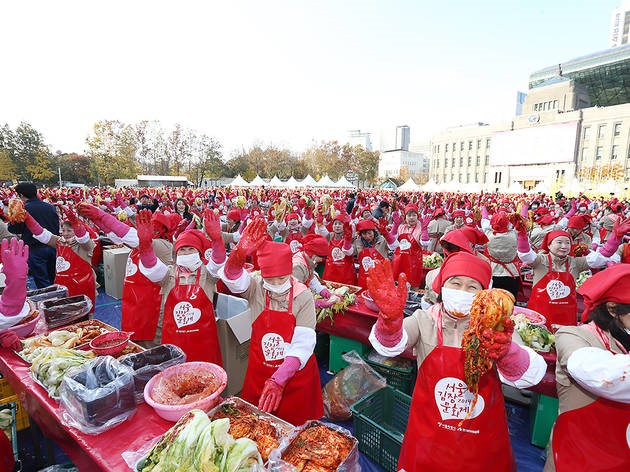 Source: Timeout
<The Gwangju Kimchi Festival in 2016>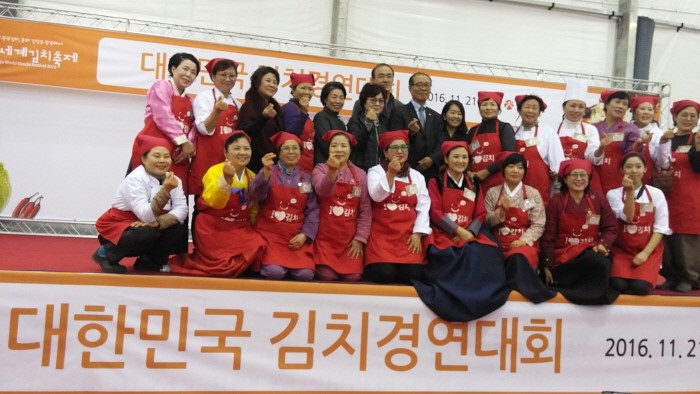 Source: Visit Korea
Ultra Korea
Korea is also known for its music festivals. Every June, well-known EDM artists gather for this festival. Being the first music festival of this type in Asia, Ultra Korea is still dominating the scene with an exciting line-up each year. In the past, EDM artists like Dash Berlin, Tiesto, Avicii, David Guetta, Snoop Dogg, MIA, Skrillex and more have taken the stage in Ultra Korea!
<Ultra Korea 2019 Lineup>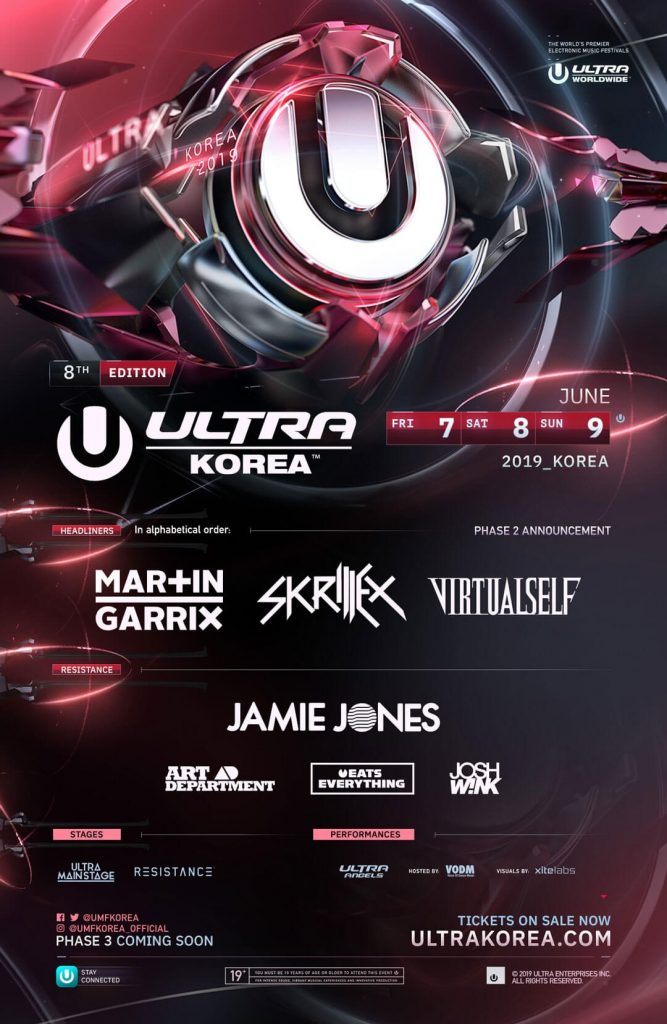 ««««««««««

This year the Ultra Korea festival will take place between the 7th and 9th of June. You can check the line-up in the photo below. Also, for more info about tickets, you can access this site: https://ultrakorea.com/lineup/

««««««««««
Source: Ultra Korea Official Site
<Ultra Korea EDM festival in 2017>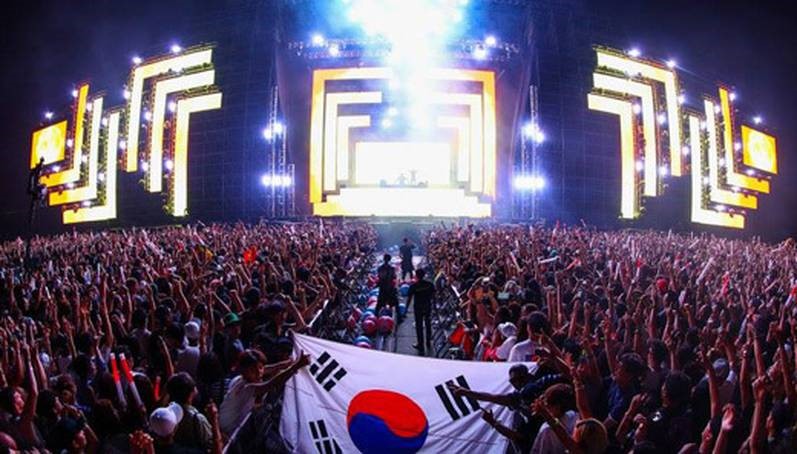 Source: Festicket
<Ultra Korea Music Festival in 2016>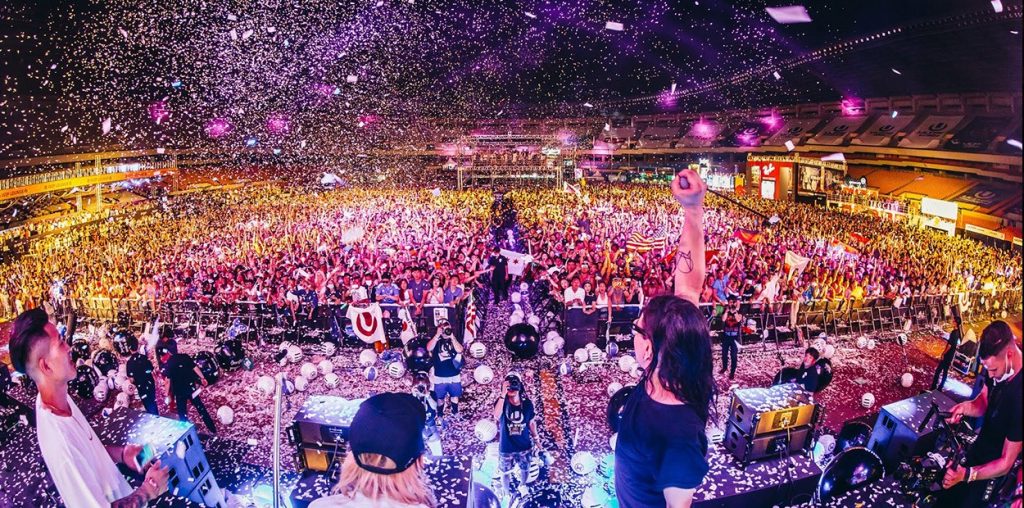 Source: Asia Live 365
5. The Busan One Asia Festival
This one is for the fellow K-pop fans! The festival will run for 10 consecutive days throughout the Busan area. As Asia's top Hallyu (Korean Wave) festival, the star-studded lineup for the opening ceremony alone is worth a visit to Busan.
Also, if you purchase a combo package from Klook, you can check other festivals and top attractions in the city of Busan.
<BOF line-up in 2016>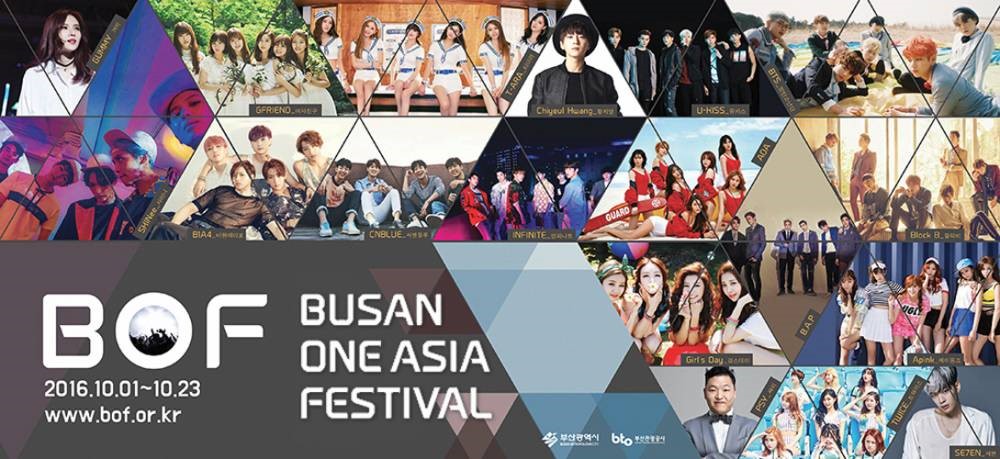 Source: All kpop
<BTS at BOF 2016>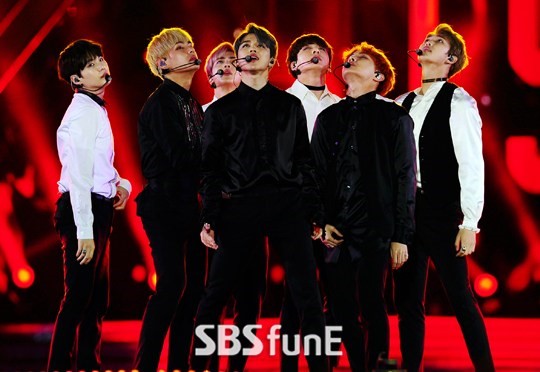 Source: BTS Diary
<2nd Line-up in 2018>
When it comes to 2018, the Busan One Asia Festival was held from the 20th to the 28th of October, in different locations, such as: Busan Asia Stadium, Busan Cinema Center, Busan Citizen Park, etc. Here you can see some of the artist in 2018's lineup: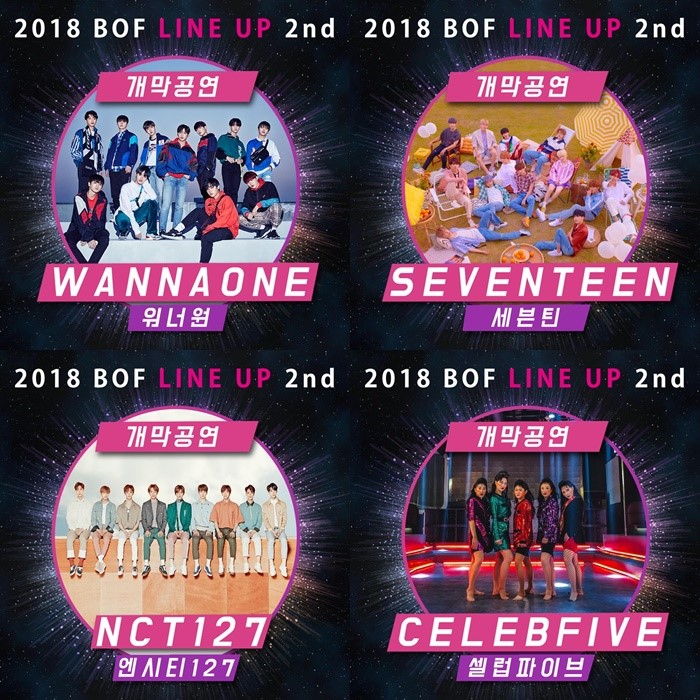 Source: Kpopmap
The Boryeong Mud Festival (보령머드축제)
This festival is held at the Daecheon Beach every year and gathers close to half a million visitors to dance, wrestle, slide and roll around in mud. This festival has become extremely popular, turning into an international sensation and interest for many people all around the world.
<The Boryeong Mud Festival in 2008>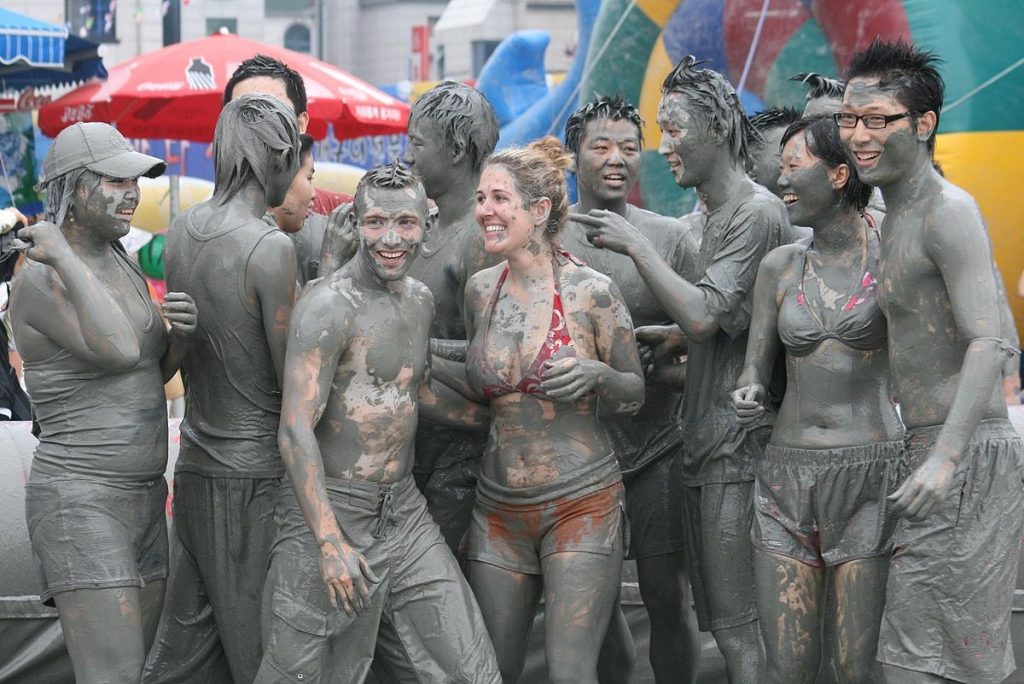 The first Mud Festival was held in 1998 and, by 2007, the festival attracted approximately 2.2 million visitors to Boryeong.
Source: Wikipedia
This festival started off as a way to promote the health benefits of mineral-rich mud and cosmetic products which contained it. However, the Boryeong Mud Festival now consists in many other activities such as mud skiing competition, mud wrestling, awarding a "mud king", etc.
Also, various health and beauty clinics offer massages, acupuncture and other treatments utilising the medicinal qualities of the mud. The festival is closed with a large firework display.
<Friends at the Boryeong Mud Festival in 2017>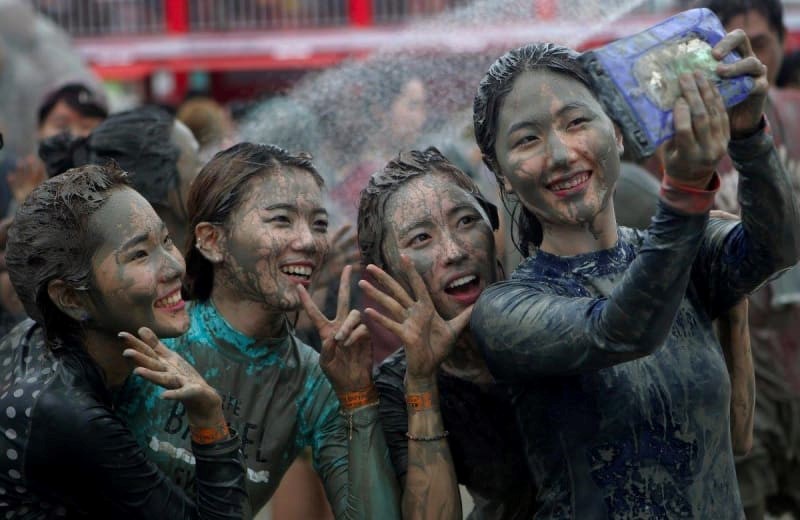 Source: VIVA
If you want to attend this festival while you're in Korea, here are some tips to fully enjoy the experience:
Bring sunscreen, since the weather will be really hot;
Get right into the mud. To make the most of the soothing mineral benefits of the mud, it is best to cover yourself in mud entirely;
Be ready to meet a lot of new people and have a lot of fun.
At the end of the festival, be ready to enjoy some soju while watching different K-pop performances. Also, there are other hip hop parties, folk or local music that you can get your groove on.
<EDM party after the Mud Festival>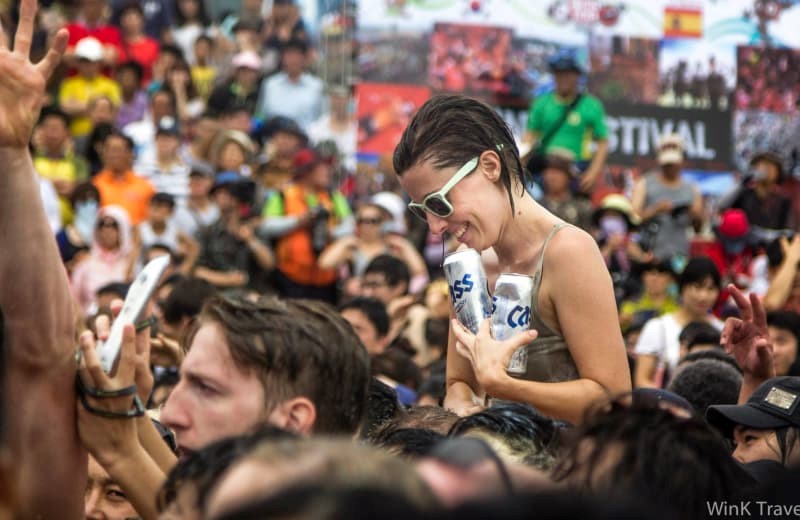 Source: VIVA
7.The Hwacheon Sancheoneo Ice Festival
This festival is held in Gangwon Province, and it gathers people who are brave enough for very low temperatures, to participate in trout ice fishing. The ones who take part in this festival drill a hole in the ice and wait patiently for their catch.
<The Hwacheon Sancheoneo Ice Festival in 2017 >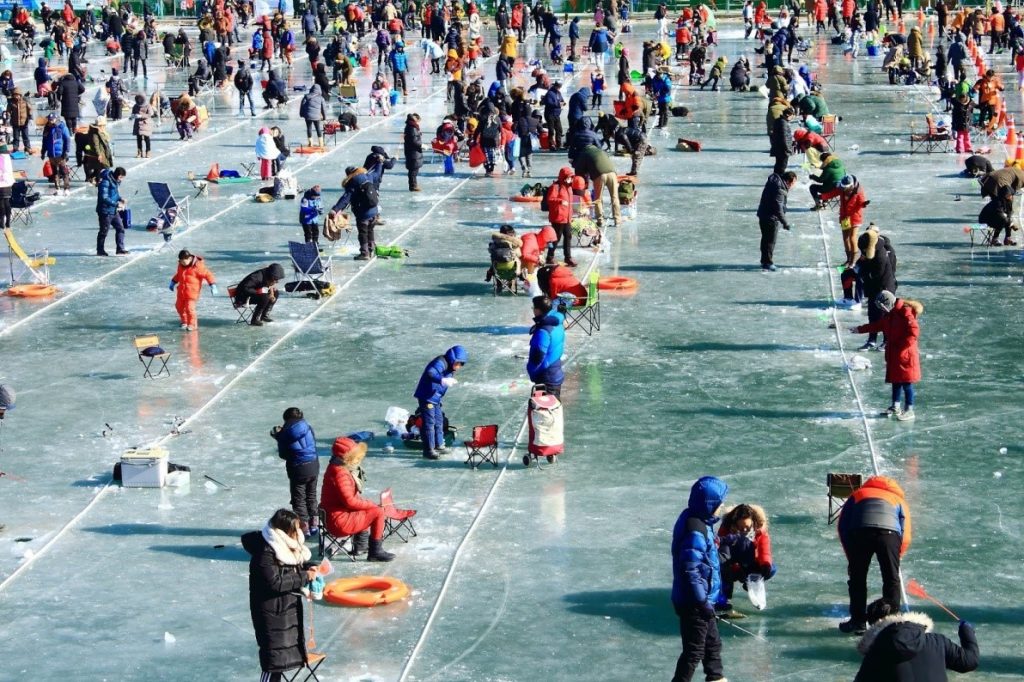 Source: Korea Blog
<A man celebrating his catch in 2015>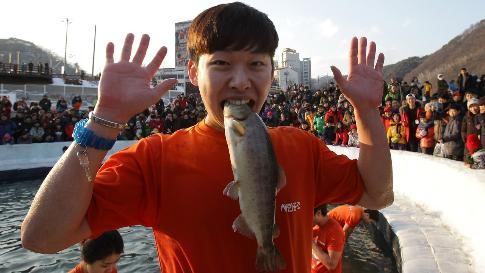 As a way to celebrate their catch, participants bite into the head of the trout! Visitors who are even braver can also try catching the fish with their bare hands.
Source: The Weather Channel
You can do a lot of other activities during this festival. If you are hungry, there are many street food vendors where you can find many types of snacks, and those not made of fish only. Also, if you attend this festival, you must check out the enormous ice sculptures.
<Fish cakes>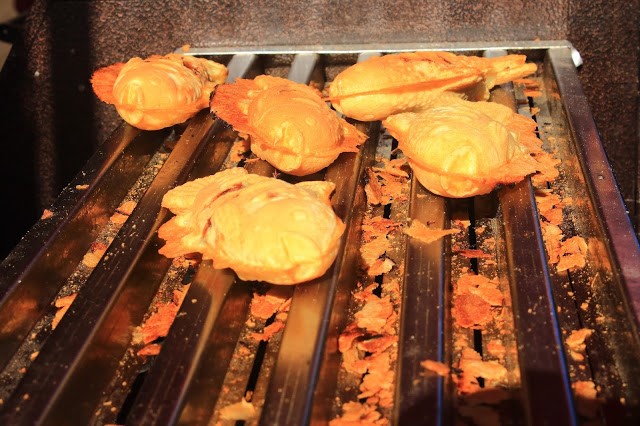 <Ice sculptures>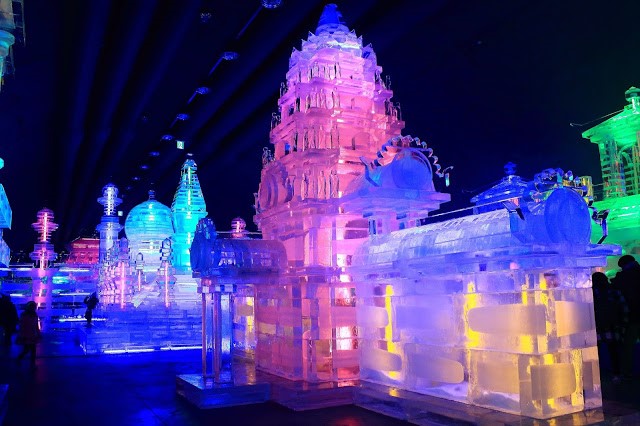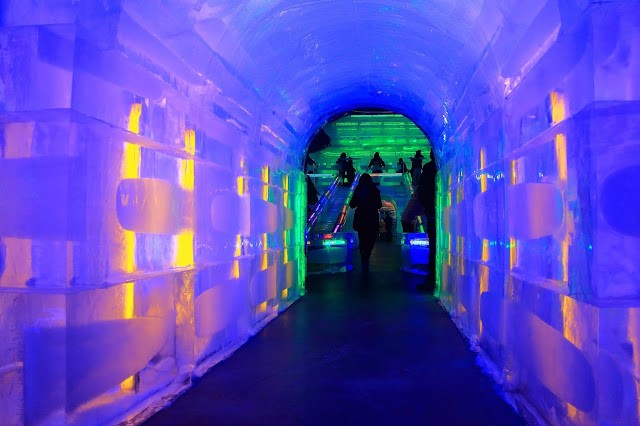 Source: Korea Blog
Other activities consist in ice sled, bobsled, ice soccer, snowmen-building, and snow tunnels and slides.
<People on Ice sleds>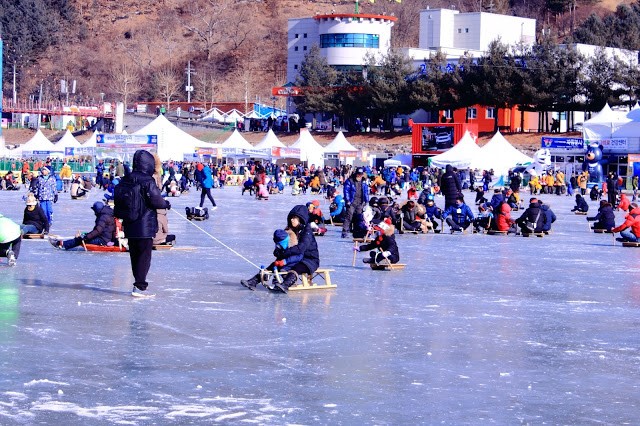 Source: Korea blog
<The Ice Festival in 2019>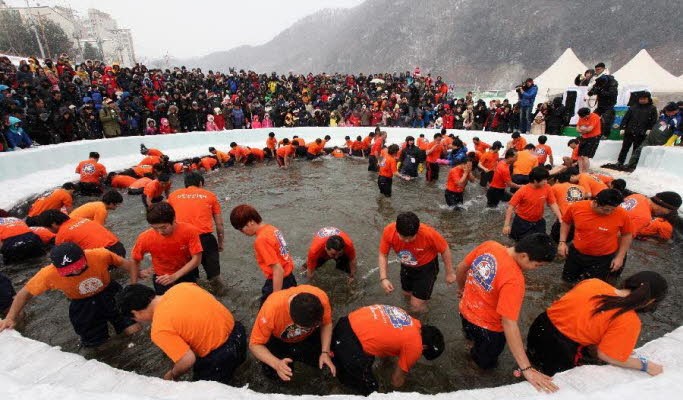 Source: Trazy
Which festival seemed the most interesting or unusual to you? And which one would you attend if you went to Korea?
Hope you liked the article! Please check our site for future updates!
Sources: