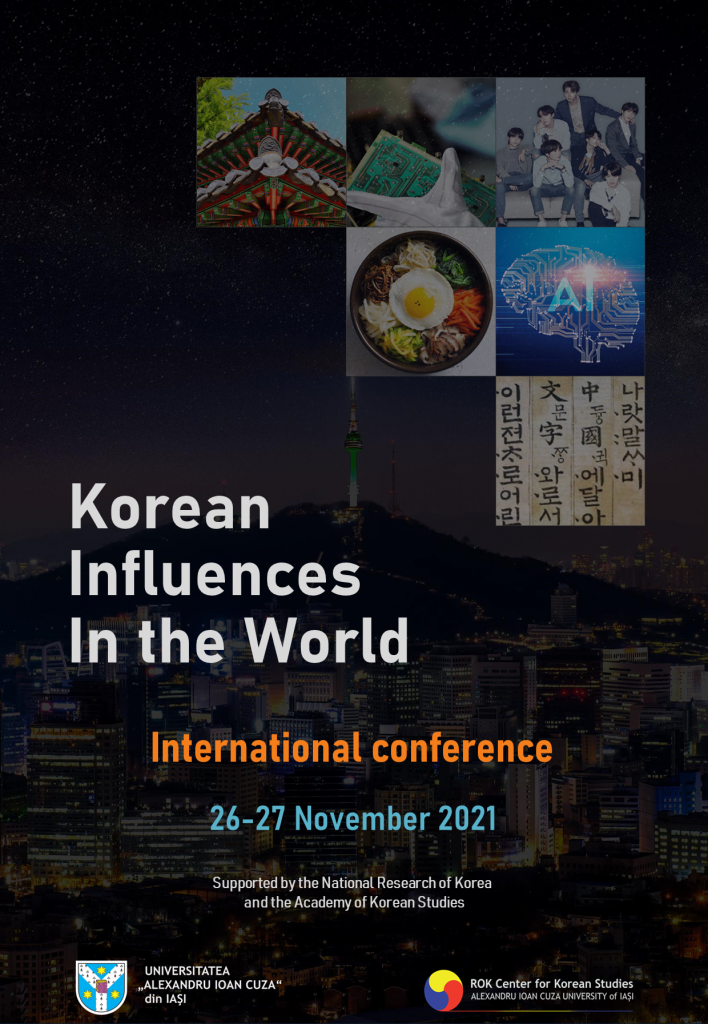 [Call for papers]
ROK Center for Korean Studies at UAIC
announces an
International Conference on
Korean Influences in the World
(KORIWORLD)
in Iasi, Romania, on 26-27 November 2021
This conference aims to investigate how Korean goods, people, and ideas have traveled the world and produced an impact in a variety of geographical areas and historical periods.
The conference will look, from intra- and interdisciplinary perspectives, at the past, present, and future of Korean influences in the world, be it in the immediate vicinity or over long distances in space and time. It plans to highlight the momentary and lasting effects produced, at individual and collective level, by material and immaterial aspects of Korean civilization and culture. It also intends to study how those influential aspects circulated and what particular qualities and circumstances contributed to their local or global impact.
Papers are invited on topics including, but not limited to:
Narratives of travel to and from Korea

Korean genres in literature and the arts

Korean cultural and economic models

Korean soft power policies
The conference will be held in hybrid mode, with both online and onsite interactive sessions including presentations and discussions. The conference will feature a young researcher session for under- and postgraduate students.
To register, please submit an abstract of 100 words and a short bio note to koriworldconference@gmail.com by November 19, 2021; confirmation of acceptance will be sent after review.
Conference participants will be invited to develop their presentations into papers and submit them according to guidelines, with a view to publication in an indexed journal (anglophone focus) or in a volume with a recognized publisher.
No conference fee. Onsite participants are responsible for their travel and accommodation.
This event is supported by the Seed Program for Korean Studies through the Ministry of Education of the Republic of Korea and the Korean Studies Promotion Service of the Academy of Korean Studies (AKS-2018-INC-2230007).