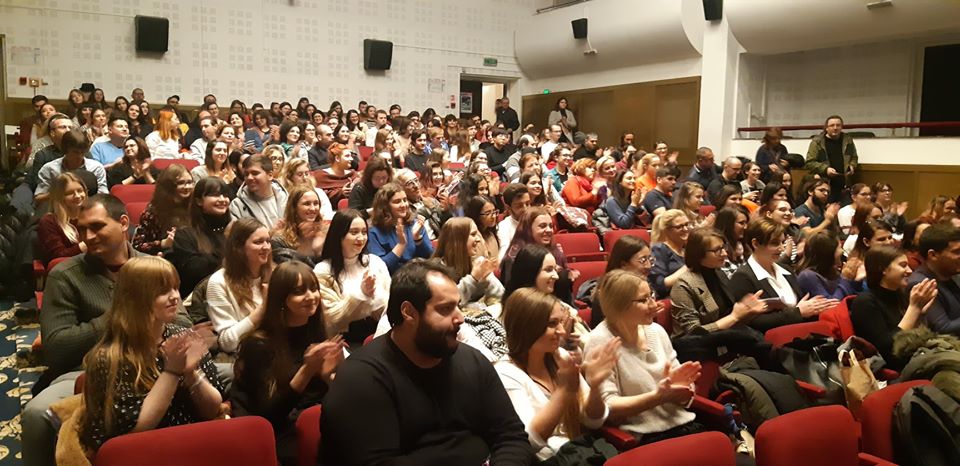 On the 29th of November 2019, ROK Center for Korean Studies organized a movie screening of the last year's Cannes Film Festival winner. «Parasite» received widespread critical acclaim and was considered one of the best movies.
We collected reviews of the visitors who watched «Parasite» in Iasi, so if you are still not familiar with it, this article would help you to add one more item to your movie-list.
Loredana-Elena Lescaie
«When I first saw the trailer I knew it would be a good movie, but I never expected to be that good. It has this perfect balance between psychological and thriller movies, mixed with a little bit of humor. When you see it for the first time, it is amazing. When you see it for the second time, it completely blows your mind because you realize this movie hides many messages. I think everybody catches the main idea for the first time. The movie is not named «Parasite» for anything, the way that the poor family lives sends us to this idea of some insects from which it is very hard to get rid of.
"I believe that it is such a shame not to share this piece of art with your friends."
It is not the first time when I see a movie from Bong Joon Ho and as he mentioned in his previous interviews, I really loved that he sticks to this idea to present the climate changes in different situations.
I also cannot go through all this without mentioning the graphics of this movie, the way that every scene moves so smoothly, completed by the soundtrack that makes you feel that you are watching a ballet scene. In one word – a masterpiece. At the end of the day, I really believe he deserved to win the Golden Globe for Best Motion Picture – Foreign Language and crossed fingers for The Oscars.
I started to get into Korean cinematography in 2016 and from then I became a faithful fan. I absolutely adore it. I remember when I first started to watch Korean movies or K-dramas I was obsessed with the romantic-comedies, to be honest, I found them entertaining but nothing too luxurious when it comes to the part of cinematographic skills. However, later as I started to diversify the genres, I discovered that Korean cinematography hides a gold mine.
"It is defined by these three elements: funny, realistic and shocking which at the end of the movie it makes you think more and more on the message behind it."
As far as I remember, I do not think I saw a movie that resembles the exact same idea, but I can associate it with ones in terms of social problems: «Detroit», «Water world». I love that it touches some of the subjects that happen in the present: social stratification, discrimination, this wrong idea to have more in life than it is necessary and climate change».
Tiberiu Teodor-Stanciu
«What's not to like about the movie?
"It is a bizarre, mean, elegant, chaotic, witty, cynical, adventurous, satirical movie with dark humor sprinkled all over the place."
I enjoyed the fast pace and the twists, while it made me reflect upon the time spent with my family and also my cellar. In the last few years, I saw some of the well-known titles like «Train to Busan», «The Handmaiden», «The Wailing» or «Spring, summer, fall, winter… and spring».
I definitely did not watch enough of it to have an educated opinion about Korean cinematography, but I did enjoy the titles mentioned above.
I have already recommended the movie to my friends! Without being able to say if, they will love it or not, I think I just wanted to discuss the movie with them.
This is quite out there, but it reminded me of Jacques Tati's "Mon' Oncle" in the way that two opposite, conflicting worlds where juxtaposed in order to reveal how similar they are to the core despite their appearance.
It makes you double-check your cellar for hidden doors».
Andreea Timiș
"Parasite" leaves you a bitter taste."
I have watched the movie without seeing the trailer because I was invited by a friend who was really excited about it and I didn't have that many expectations. I enjoyed the movie so much. The feeling I had after watching: it made me have a pit in my stomach. I did not realize it was over when I left the theatre. I was expecting a clear ending or a continuation at least. It made me question many things. Besides these rhetorical questions, the movie was extremely fascinating and more captivating as the story was untangling.
I watched many K-dramas for 2 years. I was into them, have even lost my nights watching them, but I do not regret it. I think Korean actors and actresses are really talented. They have a special chemistry. Korean cinematography is very varied and it would catch even an audience who is not very passionate about this culture. I would recommend the movie to my friends because it is very well directed, the script is complex and I am sure it would catch their attention until the last second.
"It is not as all the other movies broadcasted in Romania: something fresh and new."
The meaning is behind the script, the perfect acting and montage are much more profound. I think that the movie shows two completely different societies, not only the wealthy and the poverty but also the mentality of each one. It is a cruel reality; however, it is the reality we live in, captured in a perfect screening».
Mara Razniceanu
«I liked Parasite so much that it kept me for a week or so talking about the plot and the different meanings behind every pivot scene. The first time that I read the title of the movie I thought that it was something like «Train to Busan», something zombie-like or apocalyptic then I read the description and I was like: "What kind of movie my best friend takes me too?» I love Korean movies and dramas, especially thriller ones lately and I had nothing else to do that night and it was the best decision I could ever make. The movie made me and my friends talk about it all the way home and the days after we watched it.
Even my friends who think that all these Asian movies, dramas, «Animes» are lame and the classic question: «How can you watch if you don't understand the language? » My answer is so simple: «subtitles», as you use for your English movies.
"Every single thing is so well thought and put together like a puzzle."
It made me think about how great impact this movie made and how it tackles different topics from the family part to the society. This movie makes you think, but not with their idea, it makes your brain work. Every single person I talked to about the movie had a different perspective and it helped me to see some things differently or add stuff to the picture I was portraying.
Sadly, this movie depicts very well our modern society where the poor try to find an easy way to get money from the privileged ones. While they, on the other hand, are carrying for only their well-being and not carrying about the people around. Humanity should be the base of our world if we want a better future and this movie makes you think about that».
 Cristina Filip
«I think the movie «Parasite» was one of the best movies I have ever seen. I liked the fact that it showed us problems, which are present in our society like the differences between social classes, the people's hypocrisy and their superficiality, their lack of compassion.
"Everything was very realistic, like a slice of life."
I have seen other Korean movies and TV-shows before and I really enjoyed them but as in any business, the Korean movie industry has its «ups and downs». In my opinion, the movie «Parasite» can be considered as one of the peaks. I would gladly recommend this masterpiece to my friends because I consider it gives a very important life lesson».
Paula Constantin
«I liked the movie. It left me a very strong impression; it was so interesting and captured my attention. I have watched more Korean movies and I love them. They are always so interesting and full of emotions. I could not find a boring movie.
I have watched «Along with the Gods: The Two Worlds», «Swing Kids», «Room No. 7», «Cart», «Pure love» (I am a Do Kyungsoo fan), «Twenty». They are all amazing.
"It was quite unique and different."
I would recommend «Parasite» to my friends because it has an interesting plot and ideas, the actors are amazing and the production is flawless. I cannot think about other movies related to «Parasite». It showed the truth about society. It is quite relevant when it comes to work and finding a job, family communication and interaction, the differences between the groups of economical hierarchy».
Dana Buralkiyeva
Official Trailer – YouTube