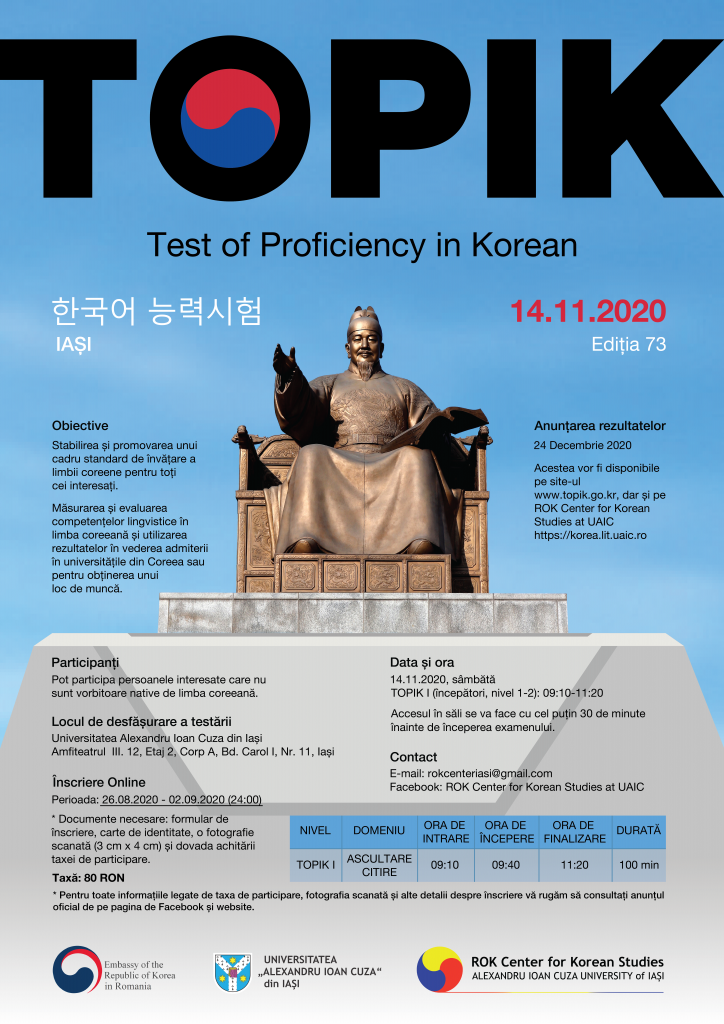 For the first time in Iasi, ROK Center for Korean Studies at UAIC helds TOPIK exam – the official proficiency test in Korean, thus becoming the third TOPIK examination center from Romania and the only existing one in the North-Eastern area of the country.
** For those who would like to apply for TOPIK, please send first an email (rokcenteriasi@gmail.com) mentioning your full name. After that, we will give you the instruction of registration personally.**
     1. Objectives
To propagate and set a standard framework for learning Korean for non-native speakers of Korean language and overseas Koreans
To measure and evaluate Korean language proficiency and utilize the test results in Korean university admission and job application.
     2. Participants
Anyone interested in the Korean language whose whose first language is not Korean.
        Use and Opportunities
Korean Government Scholarship Program (KGSP) participants taking the Korean language course
Entrance to Korean Universities as a non-native Korean speaker
Employment in companies and public institutions in both Korea and abroad
Acquisition of a Korean Language Instructor certification as non-native Korean speaker
Obtaining permanent residency or other specific Visa types in Korea
For use in the "Korea Immigration and Integration Program" operated by the Ministry of Justice of the Republic of Korea
     3. Date and time
14.11.2020, Saturday, 09:10-11:20
TOPIK I (Beginners, level  1-2): 09:10-11:20 (30 min + -> 9:40 – 11:20)
End Time of Entering Test Venue: 30 minutes before the exam (=9:10).
     4. Place of exam
Amfiteatrul III. 12, 2nd floor, Building A, UAIC, Bd. Carol I, Nr. 11, Iași
     5. Registration
Period: 26.08.2020 – 02.09.2020 (24:00)
Required documents: registration form, ID card, scanned photo (3cm x 4cm), receipt of the payment for the exam.
     6. Registration Fee
The registration fee should be paid by bank transfer or by cash deposit to Alexandru Ioan Cuza University of Iasi's bank account. (Faculty of Letters)
Beneficiary: the Faculty of Letters from University of Alexandru Ioan Cuza of Iasi
IBAN: RO68BRDE240SV89534452400
Code = 40 (fee for language testing), mentioning as the reason for payment "TOPIK, name and surname of the participant" (e.g. TOPIK, Popescu Ioana)
*Any other commissions that the bank might charge should be payed by the candidate.
* Please make sure to keep the proof of payment received from the bank . The scanned proof of payment will be requested when you register for the TOPIK exam.
     7. Test result
The test results will be announced after 24th of December 2020 (on the official TOPIK website: www.topik.go.kr).
The results will be also available at ROK Center for Korean Studies at UAIC.
     8. Contact
**The TOPIK examination will be held under strict virus control rules (temperature measurement, hand sanitiser, declaration, mask, physical distancing) provided by the organisers.